On Thursday, May 13, 2021 our new Union Pacific exhibit opened to the public.
This exhibit was made possible by a grant from the Union Pacific Railroad and generous donations from former railway workers, Richard Durant of Omaha, Nebraska and Kenneth Klouda of Rawlins, Wyoming. Exhibits like these depend on the generosity of our community and we are always grateful for those donations.
When you visit us you will see a variety of brand new objects on display as well as new panels explaining the history and importance of the Union Pacific Railroad in Carbon County's history.
We also took this opportunity to create new exhibits on train bandits and outlaws, mining in Carbon County, and how the Union Pacific Railroad influenced popular culture.
We also created a virtual exhibit that you can access via our website here:
https://www.carboncountymuseum.org/the-union-pacific-railroad
What you may not realize is that you are looking at over twelve months of work. Processing donations takes time and careful evaluation by our registrar. We then look at the story we want to tell with the exhibit and decide what objects, photographs, and other graphics reflect and add to what we want to share. We also have to take into account our spatial constraints and see what cases we will need to utilize. There is a lot of measuring and planning that goes into this aspect of creating an exhibit.
From there, it takes a lot of time and work to research and write the exhibit text. We go through our files, old newspapers and personal records to ensure we are pulling together as complete narrative as possible. The writing goes through numerous edits with multiple staff members.
At that point, we have to decide how to physically arrange the exhibit in terms of object placement, creating panels, the order everything will be in to create a story arc that is visually appealing and informative without being dull. This is probably the most difficult part of the process: installing exhibits takes a great deal of time, work, and no matter how many times you create a plan on either InDesign or SketchUp, you often realize that things need to be moved, rearranged, and so forth.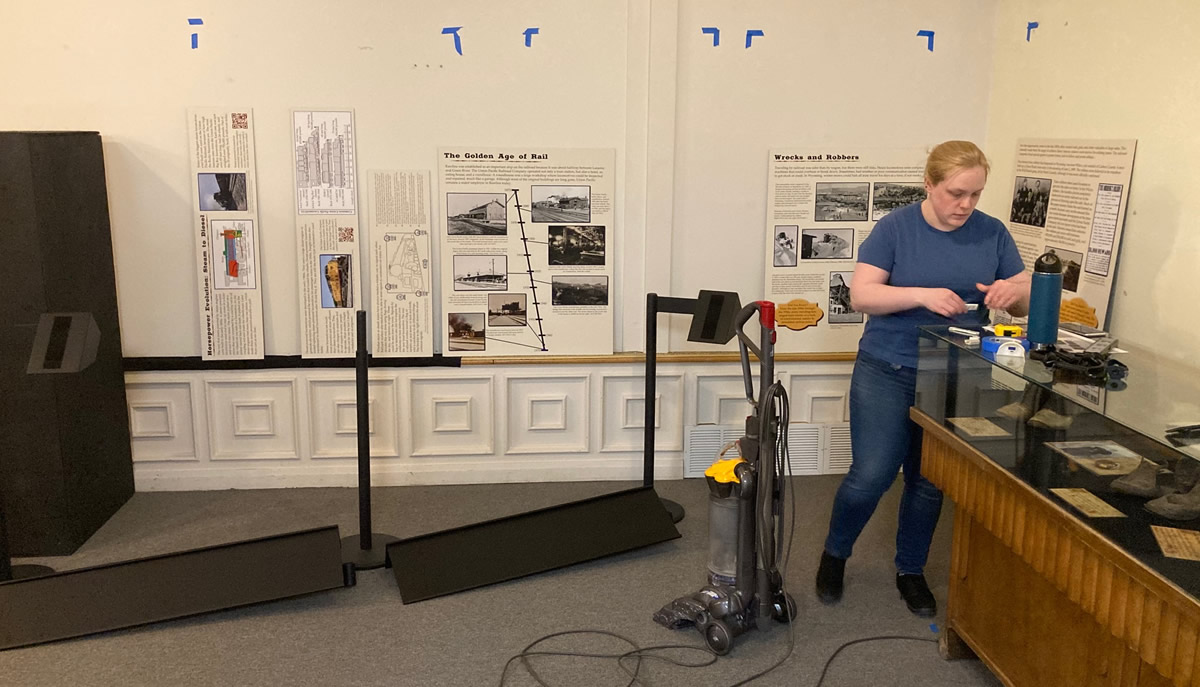 Large museums have staff with professional design experience or they contract out the job to firms that specialize in these types of projects. As we are a smaller museum, it's up to us to see the process through, from concept to the opening. It is a lot of work, but seeing the exhibit take shape is actually wonderful.
As a county museum, we often know the people who make donations; this makes creating a new exhibit that much more rewarding. As we put everything together, we take a lot of pride in telling the story and showcasing our history. The joy of working in a museum is that you have the opportunity to bring history to the public, all people, all ages. Seeing an exhibit is a completely different learning experience than watching something or reading a book.
We hope that you stop by and see our new exhibit.