Throughout the late nineteenth and early twentieth centuries, the railroad was the preferred method of travel, especially for long distances. In the 1900s, trains carried people separately on passenger trains versus freight trains which transported cargo.
In Wyoming, families would often board the train to visit family in other towns regularly well into the 1970s. This was partially due to the weather conditions, but also because it was so convenient to take the train and relax until you arrived at your destination.
"We always took the train to Laramie to visit family; it was so easy and it did not matter what the weather was, the train ran in all conditions." – Kenneth Klouda, retired Union Pacific Railroad Worker.
Improving technology changed how trains were powered: diesel-powered locomotives were developed in the early 1900s and by the 1930s they started replacing steam-powered locomotives for passenger trains. Freight trains transitioned to diesel locomotives after World War II. They are still the main type of locomotive used today.
Diesel locomotives are more powerful more efficient than steam locomotives.
They are also cheaper to maintain and do not require as many people to operate. Most modern freight trains can be run by just 2 people: a conductor and an engineer.
Here is a visual comparison of steam and diesel engines: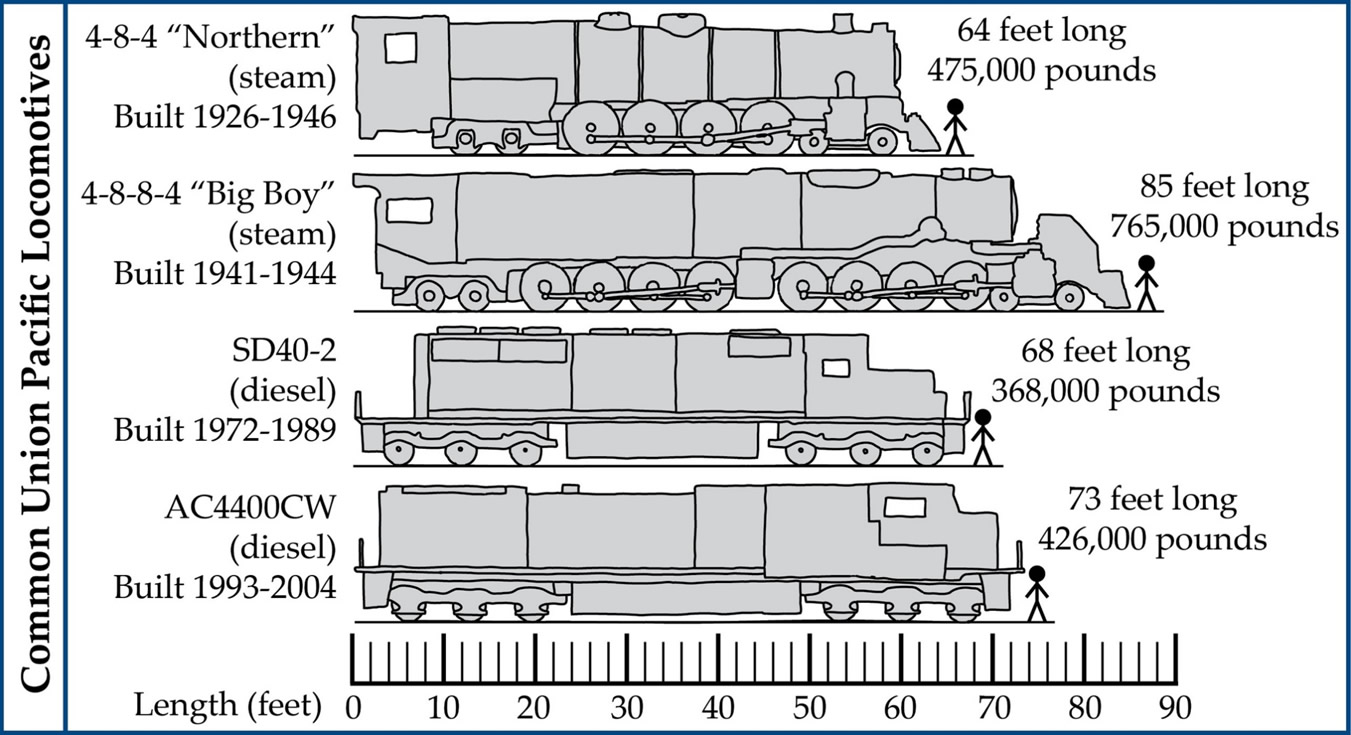 Common Union Pacific Locomotives CCM
Unlike a freight train, a passenger train needed 2 crews: 1 to operate the train, and 1 to serve the passengers. A conductor was in charge of the whole train, an engineer operated the locomotive, and brakemen and firemen took care of various duties. A director managed the crew inside the train, helping the passengers. These included porters, stewards, clerks, and even cooks.
The Union Pacific made traveling by train a luxurious experience: separate cars for dining, sleeping, and traveling were beautifully furnished to offer passengers fine dining and accommodations that made traveling enjoyable.
Everyday items used on the trains or to promote the Union Pacific was branded with their logo.
Dishes, towels, glasses, even fun items like yoyos and games all had the UP logo as part of their design. In today's terms, Union Pacific created a lifestyle brand.
Trains that ran specific routes often had names. Famous Union Pacific trains include the Overland Limited, Portland Rose, and Challenger.
Whether you worked on the trains or at a depot, or if you were part of the traveling crews, working for the Union Pacific Railroad provided people with a good income and a steady job. Crews who worked together for many years became their own "work families" where they often stepped outside of their own assigned tasks to assist one another. The goal was always to keep the trains running smoothly by working together.